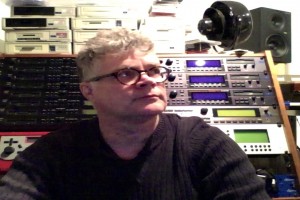 Christopher Williams is a sound artist working with radiophonics, soundscape, sound installations, and electro-acoustic music. He has lectured in Sound Art and Radio Feature-Making at the University of South Australia, and since 1990 has produced many radiophonic works for the Australian Broadcasting Corporation.
He is currently a PhD candidate in Radiophonic Art at the University of Technology, Sydney.  Christopher researched Contemporary Improvised Music at the University of Sydney; and studied Theatre and Drama at the University of New South Wales; and Directing at the National Insitute of Dramatic Art, the Australian Opera, and at the Australian Film and Television School.
He has exhibited sound works at the Akademie der Kunste, Berlin; the Studio fur elektronsische Musik, Weimar; Future Space, Royal Institute of Australia; National Gallery of Victoria; Greenaway Art Gallery; Dianne Tanzer Gallery; Horsham Regional Art Gallery; Swan Hill Regional Art Gallery, Warrnambool Art Gallery; and Folly for a Flyover, London. He performed with his electro-acoustic trio at the Australasian Computer Music Conference and COMA.  Christopher created sound for 'Uneasily Along the Sand' at Palimpsest No.8 and the sound installation 'Manifesto' for Palimpsest No.9.