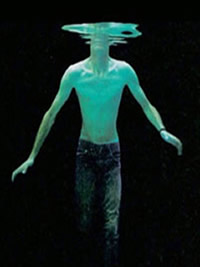 … the feeling your head is about to explode.
Heiner Mueller
. . . As If Electrically Controlled
With an electronic music score presented using a spatialised (quadraphonic) sound system , . . . As if Electrically Controlled brings together electronically enhanced vocal performance and visual projections to create a disturbing meditation on identity-loss and madness inspired by Hamlet, Hamlet-Machine and Ulrike Meinhof Sings.  The texts (by Heiner Mueller, William Shakespeare, Christopher Barnett and Ulrike Meinhof) are inter-related by several themes in common: the fragmentation and loss of identity; the refusal to play a prescribed role; imprisonment – physical, metaphysical, psychological; madness; dream; political revolt; surveillance; murder; the mediation of reality.
. . . As If Electrically Controlled was originally performed on a double bill with Olegas by Constantine Koukias and Natasha Cica, on 27-28 September 2007 at the Playhouse Theatre, Hobart.
It was workshopped as part of the IHOS Opera Lab in 2006.
Images from the IHOS Opera production