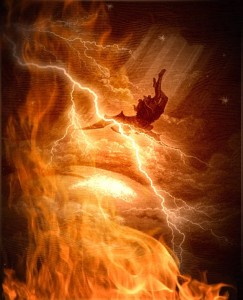 Sympathy for the Devil will be presented by the Soundstream Festival at the Samstag Art Museum September 28th 2016.

Adapted from John Milton's Paradise Lost.  Satan is defeated in his attempt to usurp power in Heaven. He and his legions are cast down into a lake of fire. With the support of Beëlzebub, he rallies the defeated army of fallen angels and determines his next strategem: to bring about the fall of mankind.
Sympathy for the Devil was originally development as a workshop project (May 2015) supported by Arts SA exploring live radiophonic performance in immersive audio. It has grown out of our collective experience in creative radiophonic production and is motivated by our desire to explore new modes of performance in a post-radiophonic environment. We have been collaborating closely with Italian audio technology researchers working on the cutting edge of spatial audio technology.
Archangel  Ksenja Logos
Satan         Rory Walker
Beëlzebub Paul Blackwell
Sound       Simon Rose
Director   Christopher Williams