Mildura Palimpsest is a biennial visual arts event that invites artists to engage with the cultural and natural environment of the Mildura and Murray Darling region.  Mildura Palimpsest is dedicated to high quality, critically engaged contemporary art in all forms. It aims to provide opportunities for real dialogue between local, national and international artists, and across disciplines.
Palimpsest, a parchment which has been partly erased and re-inscribed, evokes the marks made by human settlement on the land, the passage of time, presence and absence, and the web of inter-dependence connecting the natural and the cultural, the material and the immaterial.
Mildura Palimpsest #8: Collaborators and Saboteurs, Friday 9 September – Sunday 11 September 2011. More than 100 artists took part: thirty-three artists from across Australia, forty-eight regional artists and twenty-two acclaimed international artists in 28 reasons why we still need superman a tour of international video work visiting remote corners of the globe. Controversial and brilliant Japanese guerilla art group Chim↑Pom made their first Australian appearance in the Motel Project along with Tuomas Laitinen from Finland. The Palimpsest art/science symposium focused on change and resilience and the artworks on cross-cultural collaboration, exploring the idea that we are all collaborators and saboteurs in the created worlds we inhabit.
Uneasily Along the Sand
Mixed media installation
Old Mildura Homestead – Cottage
Paul Carter is an artist and writer who has written about his many artist collaborations in such books as'Material Thinking' (2004), 'Mythform: the making of Nearamnew at Federation Square' (2005) and 'Dark Writing' (2008). His attachment to the Mallee first emerged 25 years ago in a radio work called 'What Is Your Name', inspired by the tangled story of 'Jowley', and Jowley or 'Mac' is a leading figure in his recent poetic history of the Mallee, 'Ground Truthing'. Carter is Chair of Creative Place Research, Deakin University and Creative Director of Material Thinking.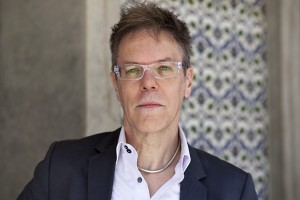 Paul Carter
Dirk de Bruyn has made numerous experimental, documentary, animation films and new media interactive works for over 35 years and continues to maintain a no-budget and independent focus for much of this work. His multi-screen performances have featured in venues and festivals in Melbourne, Brisbane, Tokyo, Wellington, Auckland, London, Paonia in Colorado USA and The Hague and Utrecht in Netherlands over the last few years. His films are available from the National Film and Sound Archive in Canberra, New York Filmmaker's Co-op, Lightcone in Paris, Canadian Filmmaker's Distribution Center and Lux Distribution in London. Dirk de Bruyn has written on and curated various programs of film and video art internationally. He is currently teaching animation and digital culture at Deakin University in Victoria.
Edmund Carter is an award winning architect and designer with an interest in interdisciplinary public art and urban design. He has exhibited widely nationally and internationally including in 'Now and When', the Australian Pavilion for the 2010 Venice Architecture Biennale, later also exhibited in Brisbane and Seoul. Selected collaborative exhibitions include: 'Visions: Beyond Media', Florence 2009; 'Nascent Present', State of Design, Melbourne 2009; 'Para', RMIT University, Melbourne 2008; and 'Flood Resistant Housing', Rotterdam 2005.
Christopher Williams is a director, dramaturg and sound artist working with radiophonic composition, sound installation, and electro-acoustic music. He has been involved for the past several years in projects based in the Mallee region: 'Speaking to Blue Winds', a poetry feature on John Shaw Neilson, situating the poet in the Mallee landscape; 'Four Works for Headphones', radiophonic compositions based on recordings at Lake Tyrell, presented most recently at Horsham Regional Art Gallery; and the radio play'Mac' by Paul Carter, based on an imagined meeting of Neilson and Wotjobaluk man 'Jowley', which will be broadcast on ABC Radio National 'Airplay' to coincide with Palimpsest along with 'Speaking to Blue Winds'.
Audio from 'Uneasily Along the Sand'.